Departed
Vincent Voerg, 69, of Wilton and formerly of Saugerties, N.Y., died peacefully at his home, surrounded by and in the loving care of his family on Friday, April 26, 2019.
Dennis R. Frasca, 69, of North Reading and formerly of Lynn, died at his home on Monday, Nov. 26, 2018.
https://patch.com/massachusetts/northreading/amp/27819234/dennis-r-frasca-passes-away
Mark F. Kapral passed away Aug 18, 2018 from many complications after open heart surgery done on July 25.
Edward F. Engell, Jr. Ted passed away June 21,2017 in his home in Alaska where he lived since moving there to work on the pipeline in the early 70's.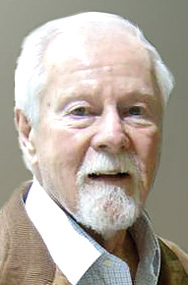 Dr. Miller Lovett
http://www.laconiadailysun.com/community/obituaries/108504-miller-lovett-94
The Rev. Dr. Miller Lovett, 94
MEREDITH — The Rev. Dr. Miller Currier Lovett, 94, the beloved patriarch of the Lovett family, died early Friday morning on Oct. 13, 2017, at his Spindle Point home that he shared with his wife, Ginny. Miller was a loving spirit with amazing energy and passion for social justice.
Miller was born in Lynn, Massachusetts, on March 18, 1923, to Charles W. and Phoebe F. (Miller) Lovett. He was the second child of three.
Together with his brother John, and sister Martha, Miller grew up attending the United Methodist Church in Lynn. As a young man he was very involved and acted as treasurer of the Methodist Youth Fellowship where he met his first wife, Dorothy (Johnsen) Lovett. They were married on Feb. 14, 1946.
Miller graduated from Lynn English High School class of 1940. He earned a Bachelor of Science degree in accounting (1944), a Masters of Sacred Theology (1946) and Ph.D. in philosophy of education, psychology of learning, group dynamics and methods of religious education (1964) from Boston University. In addition, he did his post-doctoral studies at the MIT Sloan School of Management and Boston University.
During his career as a minister, Miller served at the Lake Shore Park United Methodist Church in Lynn, Massachusetts, and the Wesley United Methodist Church in Medford, Massachusetts. In 1952, Miller and his young family moved across the country to serve as the senior minister at the United Methodist Church in Ellensburg, Washington. In 1962 the family moved back to Massachusetts where he served as interim pastor of several United Methodist churches, including the West Chelmsford Methodist Church where he helped to establish the Aldersgate Church in Chelmsford, Massachusetts, and United Methodist churches in Contoocook and in Bow. In 1965 the family moved to Laconia where Miller became the senior minister of the Congregational Church where he served until 1970. He later served as interim minister at the Congregational Church in Center Harbor, and continued to serve as a guest minister in Massachusetts and New Hampshire throughout the rest of his life. During his ministry, he married 327 couples.
Always an educator, Miller was an associate professor of business administration at Belknap College in Center Harbor; a founder and chair of business administration at Bunker Hill Community College in Boston's Charlestown section; an associate professor and chair of management at Boston State College in Boston; adjunct professor of management at the Southern New Hampshire College Graduate School of Business; and the chair of the Criminal Justice Center at UMass-Boston. He retired from teaching in 2002 at the age of 79.
Miller's career in public service spanned 70 years. He and Ginny spent months in Peru working on a Habitat for Humanity project and founding Social Ventures to develop working cooperatives for the people of Peru. In Meredith, he served as a selectman for seven years, was a trustee of the Meredith Library, a trustee of the Trust Funds, and a member of several town committees. He was a member of the Board of Directors of Genesis Behavioral Health, a charter member of the Greater Meredith Program, a Master Mason, and a proud Rotarian.
Miller is survived by his wife, Virginia "Ginny" (Lavelli) Lovett. Miller and Ginny were married in 1979 when they began a great adventure with their blended family of eight children. Their adventures took them all over and around the world many times, from Turkey to Tibet, from the Great Wall of China to South America, from Nepal to Australia and home again.
Miller is survived by his four children, Anne Lovett of Tacoma, Washington, Celeste Lovett of Moultonborough, Peter Lovett (Maritza) of Gainsville, Virginia, and Rebecca Lovett (John Dunn) of Bowdoinham, Maine; his grandchildren, Christine Roz, Erin Lovett Sherman (Michael Manning), Rory Lovett (Rachael), Ian Dunn (Cait), Nichole Lovett, Johannah Shepherd (Jake), Carrilyn Rock (Fred Britton) and Josiah Lovett; his great-grandchildren, Jacob Roz, Myles Belove, Bodhi Manning, Norah Miller Lovett, Brady Lovett, Alice Lovett, Jazmine Neal, Jordan Neal, Julian Neal, Jayden Neal, Justin Cox, Jenesis Cox and Emily Dunn. He is also survived by his bonus grand- and great-grandchildren who came into the family by marriage, Jessica Dunn, Erich Kottke, Maria Katterine Kottke, Kameron Deshais, Brayden Ammerman and Alannyah Ammerman.
Miller is also survived by Ginny's four children, Lisa Robinson (Scott) of Gilmanton, Brad Fitzgerald (Debbie) of Laconia, Ted Fitzgerald (Tina) of Northfield, and Scott Fitzgerald (Josianne) of Cairo, Egypt; her grandchildren, Kayla Fitzgerald (Keith), Hailey Groleau (Kevin), Sidney Chmielewski (Chris), Michael Fitzgerald, Andreina Fitzgerald; and her great-grandchild Waylen Groleau. He is also survived by deeply loved nieces and nephews and their children.
Miller was predeceased by his parents, his brother, John Lovett and wife Miriam (O'Leary) Lovett; a sister, Martha (Lovett) Emerson and husband Alfred Emerson; and his former wife, Dorothy Lovett.
Miller often said that each decade of his life was better than the one before and that he was still trying to decide what he was going to do when he grew up. Miller would often speak about the importance of listening to the still, small voice within, the voice that led him throughout his entire life. He was an amazing role model to his family and to everyone who was blessed to know him. He was always planning his next trip or community project. He and Ginny welcomed people from all over the world into their home to share the beauty of Lake Winnipesaukee, a meal and good conversation. Miller was fully alive every day of his life and his spirit will live on in the hearts of everyone he touched with his words, his compassion, his energy and his love.
Calling hours will be held Wednesday, Oct. 18, from 4 to 6 p.m. at the Wilkinson-Beane-Simoneau-Paquette Funeral Home, 164 Pleasant St., Laconia, using the Carriage House entrance. Funeral services will be held at the Laconia Congregational Church, 69 Pleasant St., Laconia, on Thursday, Oct. 19, at 3 p.m. Burial will be private. There will be a greeting and celebration of life reception at Church Landing, DW Highway (Route) in Meredith beginning at 6 p.m. on Thursday, Oct. 19. All are welcome and encouraged to attend.
Education was very important to Miller. In lieu of flowers, donations may be made to Lakes Region Scholarship Foundation, Lovett Family Fund, P.O. Box 7312 Gilford, NH 03247-7312.
Wilkinson-Beane-Simoneau-Paquette Funeral Home and Cremation Services, 164 Pleasant St., Laconia, is assisting the family with the arrangements. For more information, and to view an online memorial go to www.wilksonbeane.com.
Daniel W. Fleetham
Canaan, NH. Judge Daniel W. Fleetham, Sr., 104, of Canaan, passed away in his sleep on Sept. 7, 2016.
He was born in Canaan on Feb. 5, 1912 to Ernest and Fanny (Cobb) Fleetham.
He operated the Cobb Hose as well as Canaan Radio and TV Shop from 1946 to 1965.
He served as the judge of the Canaan Municipal Court from 1952 to 1982.
He was the founding president of the Canaan Lions Club in 1952 and served as its president again 50 years later. He was an active member of the Boy Scouts of America, receiving the Silver Beaver Award and Award of Merit. He served as Lodge Advisor of Passaconaway Lodge 22o of the Order of the Arrow for more than 20 years, receiving Founders and the Centurion awards.
He was an 83 year member of the Theta Chi fraternityFor Life Distinguished Service Award. He attended his sixth Theta Chi National Convention in Atlanta this past July and was recognized as "The Oldest Guy in Theta Chi" by unanimous Convention Resolution.
He was a Past Master of Summit Masonic Lodge 98 in Canaan and at the time of his death was serving as the tyler. He was a 32nd Degree Scottish Rite Mason.
He attended Norwich University Class of 1934 and graduated from Belknap College in 1972 with a bachelor's degree in business.
Judge Fleetham and his late wife Betty, were active in the Mascoma Senior Center for more than 25 years in the Meals on Wheels Program.
Family members include one son, retired Army Lt. Col. Daniel W. Fleetham, Jr. and his wife Linda of Canaan; one granddaughter Dana )Fleethan) Erb of Dayton, Ohio; and one daughter, Patte (Fleetham) Sarausky and her husband Steve of Laconia; and one granddaughter Stephanie (Sarausky) and her husband Ky Elsener of Zurich, Switzerland; and one grandson, Kyle Sarausky of New York City. Judge Fleetham is also survived by eight great grandchildren.
He was preceded by his wife of 63 years< Betty (Boyle) Fleetham who died in 2003. A Celebration of Life will be held in Canaan Hall in Canaan on Saturday, October 1 at 6 p.m. Memorial contributions may be made in his name to Theta Chi Fraternity, P.O. Box 503, Carmel, IN 46082; Passaconaway Lodge , OA, Boy Scouts of America 571 Holt Rd, Manchester, NH 03109, Social-Summit Lodge 50, P.O.Box 113, Canaan, NH 03741-0113.