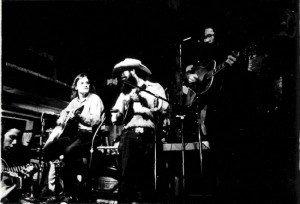 I first got to know Halleck while playing in the Jug Band. He liked to refer to himself as a performer but was a gifted singer, played guitar, mandolin, piano and, of course, fiddle. He was generous with his time, always available to students, colleagues and friends; loved to teach and ponder. At times inscrutable, he was a friend and a big influence to many at Belknap College.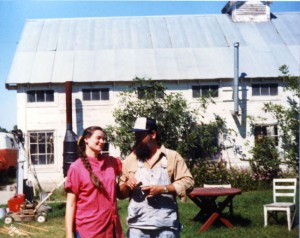 Pictured here is Halleck with his then wife, Shiela Miles (a talented artist) in front of the barn at his home in Laurel Montana.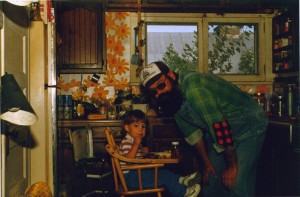 Halleck with his son Paris in 1984. Halleck passed away in 2007, succumbing to bladder cancer. I won't forget the ole Sidewinder.
Joe Kaiser
Obituary from the Billings Gazette:
Halleck Buind Brenden was born in the family home in Laurel, Montana on May 12, 1941, to Carl and Mabel Brenden. He died on July 25, 2007 at St. Vincent Hospital in Billings, MT. Halleck grew up on the family's small farm, driving a tractor, taking care of cattle, shocking grain bundles, thinning sugar beets, fencing, etc. It was hard work but good living. Early on he demonstrated both academic and musical talents, and he excelled at both over the ensuing years. He was a Cub Scout and then a Boy Scout, enjoying and appreciating our wilderness areas. In the early 1950′s he participated with his siblings in numerous trips floating down the Yellowstone River from Columbus to Laurel – usually the only raft on the river. He started violin lessons at age 9 and continued with violin and piano lessons through high school. He backpacked extensively in the Beartooth Mountains around Red Lodge especially to his favorite place, Keyser Brown Lake.
Halleck graduated from Laurel High School in 1959 and from Montana State College in 1963 with a B.S. in psychology. His summer jobs while in college were logging in Washington, artichoke harvesting in central California, and playing piano in a bordello in Mission Beach, California. He was selected for a special three-year program in psycholinguistics at the University of Illinois. While there he was active in the anti-Vietnam War movement and was one of the founding members of the Student Nonviolent Coordinating Committee (SNCC). One of his prouder moments was appearing on national television directly confronting the governor of Illinois while speaking for the anti-war movement. He graduated with an M.S. Degree in Psycholinguistics, and completed all requirements for his doctorate up to the final oral defense. He was denied his PhD because of his anti-war activities.
In 1965 he married Sally Roggia and they had a son, Leif, in 1969. He became an Assistant Professor of psychology at Belknap College in Centre Harbor, New Hampshire, was selected as Chairman of the Board of Trustees, and served on the Academic Senate. He earned tenure in short order and his classes were very popular and overflowing. He established strong friendships with many of his students, and these connections endured over the years with a number of them visiting him repeatedly with their growing families and some moving to Montana. While at Belknap College Halleck played wonderful improvisational piano and fiddle in the Jug Band.
When Belknap College closed, Halleck worked from 1972-1975 for Owens-Illinois in Massachusetts doing silk screening. In 1975, he drove his truck Homer back to Montana, working for Carpenters Local 1172 in Billings, Montana, 1975 through 1978. After his marriage ended he went to live with his brother Carl in New York City. He was a performing artist and raconteur at Kenny's Castaways from 1978 to 1979.
He met Sheila Miles and together they worked carpentry jobs and played music throughout the New York City area and later throughout Eastern Montana. Halleck's music was recorded and produced by Beet Records and he played concerts with Dobro Dick Dillof. One of their first gigs was at the famous Folk City Club. In 1979 Sheila and Halleck moved back to Montana where they were married in 1980 at Keyser Brown Lake. Halleck could fix anything; on their move to Montana the u-joint went out on their van and Halleck carved apple wood to repair it until they could get to the next town. This talent made him a much sought-after carpenter when he worked as a millwright in Carpenters Local 1172 in Billings. Their son Paris was born in 1982 in Billings, and in 1983 they moved to Miles City where Halleck was a DJ for a radio station. Halleck adored his son and missed him terribly after the marriage ended in 1989.
From 1987 to 1997 Halleck had wide-ranging life experiences. He had many musical engagements including playing with well-known musicians like Vassar Clements, and a tour as a fiddler with Country Shuffle around a five-state area. He said it was "probably the most broad and humanizing educational period of my life." Halleck loved being in the Big Cattle Drive of 1989, and he was in his element playing his fiddle each night at the campfire. In 1997-1998 Halleck worked with Walter Foster on the "Lewis and Clark Trail/ Clark Bottom Rendezvous." After a back injury in 1987, Halleck played with bands and wrote music until health problems three years ago made it harder to get out. He turned to his writing, poetry, and music with friends in his beloved "Circle Cross" barn.
Halleck was a gentle spirit who befriended many at his home in Laurel, sharing his music and writing gifts with others there. He touched many people with his sensitive writing and music as he played piano, violin (fiddle), guitar, and mandolin. His dog, "Woofersnap" was his loyal and beloved companion. His good friend Paul Garrison (Dr. Mongo) helped produce his first CD ("Lost in A Honkey-Tonk Dream") of his songs and poetry. "Fiddler" is the name by which many knew him as he played and sang alone and with various bands in the area. He will be deeply missed by so very many of us, and we are thankful that his hundreds of poems and songs and writing will live long after him. The family wants to thank the many people who helped Halleck, brought him things he needed, and were there for him as dear friends and companions. Our special thanks to Michelle (Shelly) Herren, David Strever and Louise Murray for helping him. Thanks also to the nursing and medical staff of St. Vincent 5th Floor.
Halleck is survived by his deeply grieving son Paris Miles-Brenden who is earning his PhD at California Institute of Technology, Pasadena. Halleck and Paris would talk on the phone for hours, had a very close relationship, and were able to spend valuable and enriching time with each other in recent years. Halleck is also survived by his older brother Carl (& Margaret) of Columbus, MT, and his younger sister, Sonvy Sammons (& Richard), of Bismarck, ND. He has three nieces and nephews: Kirsten Razzone of Traverse City, MI, Heather Sammons of St. Paul, MN, and Eddie Williams of Raleigh, NC. He was preceded in death by his son Leif, his parents Mabel and Carl Brenden, and brother Sam Brenden.
The family suggests that in lieu of flowers donations be made to the Humane Society or Yellowstone Public Radio. There will be a Memorial service on Tuesday, July 31, 1:00 PM at Dahl's Funeral Chapel in Billings (Division and Yellowstone). Friends of Halleck are invited to come, bring instruments and stories, and to share memories and music to celebrate his life.
This obituary was originally published in the Billings Gazette.