Mark Kapral
Mark F. Kapral
563 Miller Rd.
South Windsor, CT06074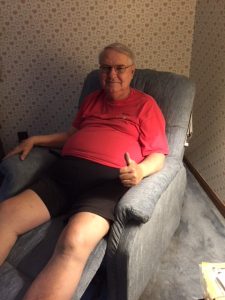 Mark passed away Aug 18, 2018 from many complications after open heart surgery done on July 25.
Eulogy for Mark Kapral
My name is Andrea, and Connie and I have been friends since college. Today, I have the honor of sharing some stories about Mark from his family and friends.
When I met Mark, his quirky sense of humor and sharp wit was on display immediately. He liked to poke fun, never to embarrass, but always with the intent to create a chuckle or cause a reaction. When he did this, it was always with a twinkle in his eye. He enjoyed keeping you a little off kilter, trying to keep the mood light, all the while, keeping sharp so that he could have the last word. In the tete-a-tete of conversation, it was always rewarding to win a one-on-one with Mark Kapral….because, truthfully, it didn't happen very often!
Mark was the only child of Julian and Estelle Kapral. At a young age, with their guidance, he learned about the responsibilities and duties of a loving son. As an adult, Mark worked in the same company as his father, Spencer Turbine Company, which kept them especially close in adulthood. When his father died suddenly, Mark, with Connie's help, devoted himself to taking care of his mother and her needs. He was the best son, at times, giving every ounce of his energy to the task or responsibility at hand.
When it came to extended family, Mark loved his cousin David, also an only child. They became especially close in young adulthood. Although five years apart in age, they spent a lot of time together, sharing their love of cars and having adventures with a similar sense of humor and purpose. The times spent in the Kapral family pool through the years were filled with carefree, oftentimes crazy, fun! Mark was the best cousin!
When we were sharing stories last evening, we learned the sweet story about how Mark and Connie's love affair started. They were at their Rocky Hill High School five year reunion, and although they had been in the same graduating class, they didn't really know one another. Susan, Connie's high school friend, played matchmaker without even knowing! Mark had approached Susan to say hello, she was busy chatting with someone, so Mark looked for a friendly face, saw Connie, started a conversation, and the rest is history! Connie and Mark remained dedicated to one another all through the years, right up to last Saturday morning. Mark was a loving and devoted husband….and Connie, he was so proud to be married to you!
Connie and Mark shared a mutual love for all things Maine, especially the coast from Wells to Bar Harbor…and Schoodic Point, too, but that's another story! I would tease them about how they knew all the little nooks and crannies along the coast, the best out-of-the-way places to sightsee, to explore, and to eat. Mark would always be looking for treasures to buy to add to his collections, and I would tease him about helping the Maine economy…"Show me what's in the trunk!"
One of the common threads in Mark's life was that he was always there for his family, friends, and co-workers. He could be counted on to help, without hesitation. Mark's sister-in-law Fran reflected on all the skills Mark helped her learn to maintain a car and a home of her own: from putting air in her car tires to taking out the lawn mower battery in the fall and installing it in the spring and everything in between! When Connie traveled to CTAHPERD events, Fran and Mark would be phone buddies to pass the time, even seeing if they could beat their previous talking time records! Mark was the best brother-in-law!
Ken Davis, Mark's longtime friend, shared these words, "Mark was a brother to me. I looked up to him. He was always there when I needed him, and I always depended on him. I am going to miss all the occasions we got together and events we enjoyed together." Mark was the best friend!
Mark loved holidays, especially Thanksgiving, with all of the delicious food and pies! He had a special love for his mother's southern style pecan pie. He loved the blueberry pancakes at the Maine Diner. He loved my spaghetti sauce and meatballs. He loved all of the children of his family and friends, and he enjoyed showing his many and varied trains and cars to all of the wide-eye kids. He loved watching the original NCIS television show and the program Super Natural. He loved crossing the bridge over the Piscataqua River into Maine with Connie to begin their vacations filled with relaxation, nature, birds, animals, and the smells and sounds of the ocean. Maine was Mark's happy place.
As we think of Mark, let us make a promise to enjoy the basics of life in his honor. As long as Mark was with Connie, the love of his life, and in the presence of family and friends, he was a happy and content man. Mark is loved by many, and he will be missed….
Written and delivered with love and affection by Andrea August 23, 2018