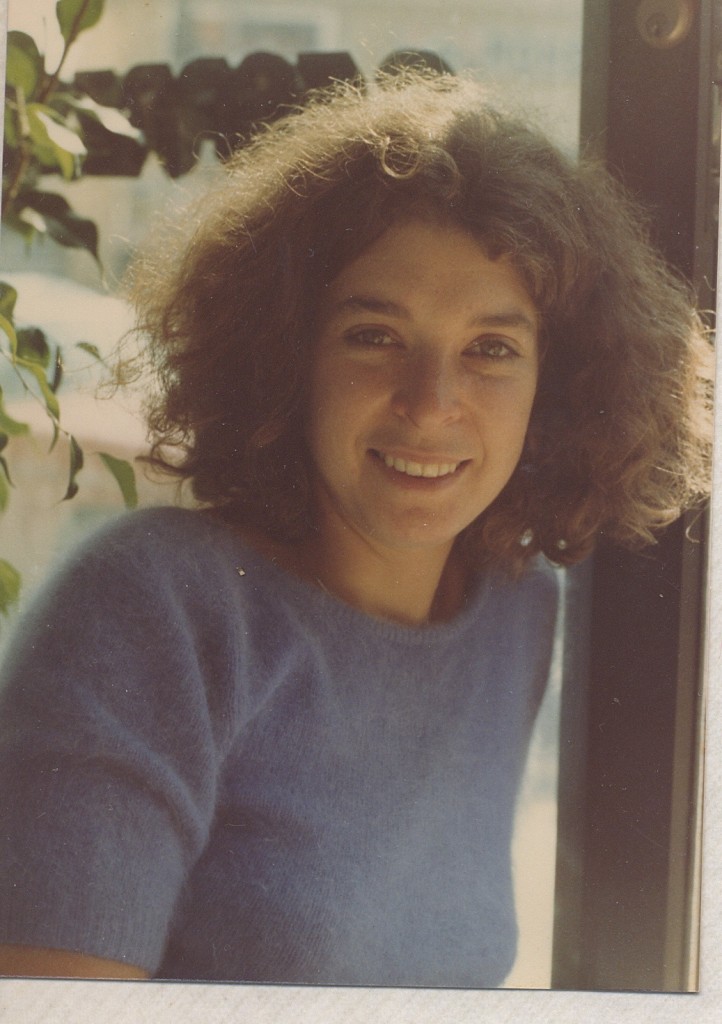 Faye Deborah Golder
December 14, 1951- April 5, 2007
"Faygele" in Yiddish means "Little Bird" which is what her parents named Faye Golder
when she was born. She was proud of her name, and identified with it.
Faye had a love of nature. Growing up in Milton, MA, she and her family went on picnics
in the Blue Hills, spent summers in Nantasket Beach, and stayed at the family vacation house on
Lake Winnipesaukee, New Hampshire. After moving to New Haven in 1991, she shared her love
of swimming, walking in the woods, singing and playing guitar around a campfire with her
husband, Paul Caron, whom she met on an evening hike with the New Haven Hiking Club.
Faye's adventurous spirit led her to travel throughout the world. When they were just teenagers,
Faye and her sister, Barbara, went to New York City to see "Fiddler on the Roof." During
the summer of 1969, they joined many others when they attended "Woodstock." At age twenty,
she spent some time exploring Mexico with her brother, Neil. Another of Faye's memorable trips
was to Israel with her father in 1992.Faye and Paul traveled together to such exotic places as
Alaska and Peru. But they were just as content to walk down their street to Lighthouse Park to
watch the sunset.
Faye's interest and talent in theater began when she was very young. She was in seventh
grade when she played the role of Tiny Tim in "A Christmas Carol." Later roles in her career
included Adelaide in "Guys and Dolls," Mrs. Peterson in "Bye, Bye Birdie," and Mrs. Banks in
"Barefoot in the Park." Faye lived in the San Francisco area for several years, where she studied
acting at the San Francisco Theater Academy and took improvisation classes from Whoopie
Goldberg.
While in California, she did outreach and recreation work with the elderly and disabled.
The combination of her dramatic talents and genuine desire to help others led her to eventually
get a Master's Degree in Drama Therapy from New York University. When she began working at
the Jewish Home for The Elderly in Fairfield, CT in 1996, she was the perfect match for the job
of Assistant Director of Therapeutic Recreation. She could utilize her experience and creativity in
music and drama as well as her expertise as a Certified Yoga Instructor. In
September, 2004, she received the "President's Award for Outstanding Leadership" at the Jewish
Home. Upon presenting the award, Andrew Banoff praised Faye for being "a leader in promoting
kindness, generosity, goodwill, and spirituality."
Faye was completely devoted to her family and friends. Holiday celebrations in the Golder
household were filled with performances of music, poems, dances, and jokes (usually puns). Faye
had an ability to bring all members of her extended family together by making time for visits and
cooking delicious meals at her home. She never seemed to miss an opportunity to attend a
birthday, graduation, wedding, or special performance of her relatives and friends. She cherished
her moments with her nephew Ben and niece Rose, and enjoyed seeing how well Erna, her
mother-in-law, and her own mother, Shirley, got along together. She had a special bond with her
aunts, uncles, and cousins. She was proud of her step-children, Jason and Paula, and her granddaughter,
Taya. Recently, Faye was thrilled with the opportunity to spend more time with her
niece, Katelyn, and to get to know her better. The mutual love between Faye and her parents,
Shirley and Mel, was always getting stronger.
Humor and inspiring people to have fun were important to Faye. She was a great mimic
and could make people laugh. But she was never a "show-off". She enjoyed and encouraged
others to be funny. One of her most prized accomplishments was that she once won a hula hoop
contest. She brought her hoops along in all kinds of settings, including a group canoe trip in the
wilderness of Vermont!
Even when she was ill, she brought joy to others. When Faye was diagnosed with brain
cancer in 2004, her strength, dignity, and compassion for others only increased. She became close
to the staff at both Dana Farber and Yale New Haven Hospital, always trying to put them at ease
by her humor and warm smile.
Many of Faye's last days were spent lovingly with friends and family, looking out of her
sun room window at the trees, the sky, and the birds. We will miss our own "little bird," Faye.