Earl Roberts – "The Good Doctor"
151 Moonlight Drive, Cresco, PA 18326
570-595-6420
email: earlr1@verizon.net
I am retired now having had renal cancer and a kidney removed (2010) and two strokes (2011). Amazingly, I'm doing pretty good. One of my seven doctors calls me his walking miracle. If I am it is because of all the people I had praying for me.
http://www.ccsjn.org
eroberts@ccsjn.org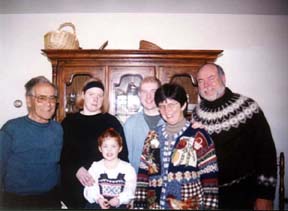 Right to Left: Earl ('71), Denise(wife), Chris(son), Elizabeth(granddaughter), Chandra(daughter), Earl(Jr.Dad)- Thanksgiving 2000