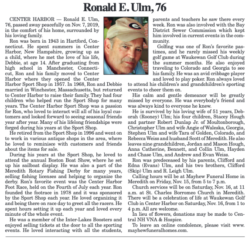 Ronald E. Ulm, 76, passed away peacefully on Nov. 7th in the comfort of his home, surrounded by his loving family.
Ron was born in 1943 in Hartford, Connecticut. He spent summers in Center Harbor growing up as a child, where he met the love of his life, Debbie, at age 14. After graduating from high school in Manchester, Connecticut, Ron and his family moved to Center Harbor where they opened the Center Harbor Sport Shop in 1957. In 1968, Ron and Debbie married in Winchester, Massachusetts, but returned to Center Harbor to raise their family. They had four children who helped run the Sport Shop for many years. The Center Harbor Sport Shop was a passion for Ron, who loved to interact will all of his loyal customers and looked forward to seeing seasonal friends year after year. Many of his life-long friendships were forged during his years at the Sport Shop. He retired from the Sport Shop in 1996 and went on to work in various antique shops in the area, where he loved to reminisce with customers and friends about the items for sale.
During his years at the Sport Shop he loved to attend the annual Boston Boat Show, where he set up his sailboat display. He was also a part of the Meredith Rotary Fishing Derby for many years, selling fishing licenses and helping to organize the derby. Ron's favorite event was the Center Harbor Foot Race, held on the Fourth of July each year. Ron founded the footrace in 1978 and it was sponsored by the Sport Shop each year. He loved organizing it and being there on race day to greet all the racers. He spent hours setting it up each year and loved every minute of the whole event. He was a member of the Inter-Lakes Boosters and enjoyed selling tickets at the door to all the sporting events. He loved interacting with all the students, parents and teachers he saw there every week. Ron was also involved with the Bay District Sewer Commission which kept him involved in current events in the community.
Golfing was one of Ron's favorite pastimes, and he rarely missed his weekly golf game at Waukewan Golf Club during the summer months. He also enjoyed traveling to Colorado and Georgia to see his family. He was an avid cribbage player and loved to play poker. Ron always loved to attend his children's and grandchildren's sporting events to cheer them on.
His calm and gentle demeanor will be greatly missed by everyone. He was everybody's friend and was always kind to everyone he knew.
He is survived by his loving wife of 51 years, Deborah (Rooney) Ulm; his four children, Stacey Hough and partner Robert Dunlap Jr. of Moultonborough, Christopher Ulm and wife Angie of Waleska, GA, Stephen Ulm and wife Tara of Golden, CO and Rebecca Weiss and husband Scott of Meredith. He also leaves nine grandchildren, Jordan and Mason Hough, Anna Catherine, Bennett and Collin Ulm, Hayden and Chase Ulm and Andrew and Evan Weiss. Ron was predeceased by his parents, Clifford and Edna (Evans) Ulm and his two brothers, Clifford (Skip) Ulm and R. Leigh Ulm.
Calling hours will be held at Mayhew Funeral Home in Meredith on Friday, November 15 from 5-7pm. Church services will be on Saturday, November 16th at 11 am at St. Charles Borromeo Church in Meredith. A celebration of life will be held at Waukewan Golf Club in Center Harbor on Saturday, November 16th from 1-4pm. All are welcome. In lieu of flowers, donations may be made to Central NH VNA & Hospice.